Verkada Security Cameras and Verkada Access Control in Denver
Finding a network cabling company that can guarantee exceptional results is crucial. The firm you select needs to have the experience and expertise to do the job right. In today's digital age, things change fast, and you should ensure the company you're working with keeps up with the most recent industry developments.
Integrated Systems Installers, Inc. is your trusted source for network wiring and fiber optic installation. Our team will work closely with you to provide tailored solutions. We're proud to serve Denver, CO and the surrounding area. If you're in the market for structured cabling, Integrated Systems Installers is the company to call. We've been in business since the mid-90s, and we've mastered our craft.
To learn more about Verkada's security solutions for Denver, CO, speak with Integrated Systems Installers today!
Contact Us
Door or Gate Access Systems and Security Camera Systems in Denver, Colorado
Access control systems allow you to prevent anyone with unauthorized access from entering your property. At Integrated Systems Installers, we offer professional installation of Verkada access control systems. These systems are the next level in office and building access management technology, offering unrivaled usability, flexibility, and reporting.

Verkada Access Control in Denver, CO
Verkada access control systems offer a multitude of features such as biometric verification, secure smartcards, active mapping, and advanced search filters are all part of our suite of integrated door access systems/gate access systems and solutions. Simply secure your building with gate or door access systems by Verkada.

Verkada Security Cameras in Denver, CO
Surveillance cameras help you monitor the area around your property and keep an eye on those who have gained access. You can take things up a notch with Verkada security cameras. Verkada systems offer seamless cloud-based access control and video monitoring.
If you're not sure what will work for your needs, don't sweat. Our experts will help you select and install an advanced Verkada cloud-based security camera system to ensure everything is optimized for your needs.
Offering Structured Cabling, CCTV, Wiring, and More in Denver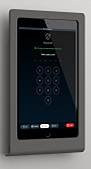 Located in the South Platte River Valley, Denver, CO features the Great Plains to the east and picturesque views of the Rocky Mountains to the west. The city boasts vibrant neighborhoods, plenty of restaurants, a famous music scene, and much more. If you're an outdoor enthusiast, you'll enjoy a visit to one of the world's top outdoor destinations, Rocky Mountain National Park.
With such a warm and welcoming atmosphere, it's no surprise that many businesses have their offices in Denver, CO. We at Integrated Systems Installers, Inc. can help your business stay safe and connected. If you need to discuss your needs with structured cabling specialists, contact us today. We can handle all your fiber optic installation, CCTV camera, or access control needs.
Proudly Partnered with Verkada – Proudly Serving Denver & More!
Arvada, CO | Boulder, CO | Cheyenne, WY | Denver, CO | Englewood, CO | Fort Collins, CO | Littleton, CO