Cat 6 and Cat6A Wiring In Aurora, Arvada, Boulder, Colorado Springs, Denver, Englewood, Fort Collins, Littleton, Summit County, Vail, CO, Cheyenne, WY, and the Surrounding Areas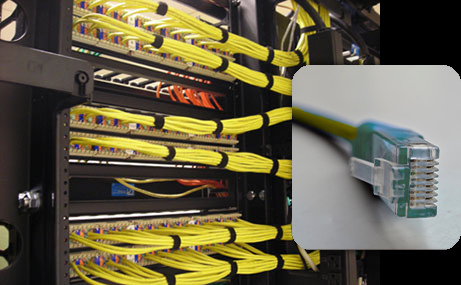 Integrated Systems is a firmly established resource for Cat 6 wiring and Cat6A wiring in Denver, Fort Collins, Boulder, Cheyenne and the surrounding communities. Experience counts in this business, and we have been exceeding the expectations of our structured cabling clients since 1996. We have been able to grow over the years because we often develop long-term relationships with clients who have evolving needs, and we benefit from the positive word-of-mouth that is spread about us throughout the region.
Category 6 and 6A wiring is utilized in structured cabling for business computer networks, and can also be used for wireless access points, power, voice, video and the networking of IoT devices. We have accumulated a great deal of expertise with Cat 6 and Cat6A wiring over the years to ensure your business remains connected and online. We are experienced with backward compatibility of Cat 5 cabling and can evaluate and update your system. Ask us about integration and commercial network setup.
The BICSI trained technicians that comprise our team are highly skilled, trained professionals who bring a wealth of experience to the table. We can satisfy all of your structured cabling needs, no project is too large or too small.
Integrated Systems can be relied upon for network cabling design and consulting for new setups, including testing and documentation. Existing site cleanups are another area of specialization for our company, so we can evaluate your situation and make the appropriate improvements to provide enhanced efficiency. We are also a respected resource for door access control, gate control, and video surveillance systems, and of course, these systems require extensive cabling. Our technicians can seamlessly integrate systems such as these with your existing networks.
Personalized Service, Affordable Prices
We take a great deal of expertise with us when we head out into the field to handle our structured cabling assignments, but we also recognize the importance of friendly, communicative customer service. Each situation is different, and we understand the fact that personalized attention is very important. Plus, we know that budgetary constraints are a fact of life, so we do everything possible to provide value-based pricing. If you would like to discuss your networking needs and Cat 6 wiring with one of our knowledgeable structured cabling specialists, call us now at 303-765-1255.