The network that you have at your business or building has been humming along just fine, thank you, so why would you invest the money to upgrade from Cat5 to Cat6 cabling? Just like other businesses in Front Range, Colorado Springs, and Vail, CO, you will find that there are several worthy benefits to be had by upgrading. The team from Integrated System Installers has done cabling upgrades and a host of other network enhancements over the last 25 years, so they have the experience to efficiently upgrade your network. Contact us today to learn more and get started on the planning for your network cabling upgrade.
Benefits of Upgrading Network Cabling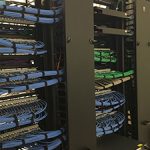 One of the benefits of upgrading from Cat5 to Cat6 is that Cat6 cables provide additional shielding that is lacking in Cat5 cabling. When you open up either of these cabling options you will find four pairs of twisted wires. However, in Cat6 cabling you will also find additional shielding material that separates these twisted pairs, providing more protection against crosstalk and degradation of the signal. This makes the Cat6 cabling easier to work with because there is less of a need to route it in certain ways to protect against interference.
Another benefit with Cat6 cabling is that it still uses the same RJ45 end connectors that earlier cabling standards also use. This means that you don't need to change out connection jacks and other equipment because of incompatible connectors. These cables also have the same four pairs of twisted wires as Cat5 has so working with Cat6 cabling is very similar.
Finally, the potential speeds available with Cat6 cabling are up to 10 times faster than compared to Cat5 cabling. As more and more locations get faster and faster internet speeds, being able to take advantage of these speed increases makes Cat6 a wise choice for future-proofing your building and business.
Your Experienced Team for Your Cabling Upgrades
Our team at Integrated System Installers has been helping businesses and homeowners all over Front Range, Colorado Springs, and Vail, CO, maintain and upgrade their computer networks for more than 25 years. When you have miles and miles of network cabling, you don't want to spend the money to upgrade your network cabling unless there are significant gains to be had as well as knowing that the upgrade will be in place for years to come. Moving from Cat5 to Cat6 provides these significant gains and also will be viable for many years in the future. Contact us today to have our team get started on your upgrade project.