Having a wired network in your home or office building in Arvada, Boulder, Cheyenne, Denver, Englewood, Fort Collins, and Littleton, CO is much more reliable than a wireless network, but you don't want to have to continually invest in upgrading your wiring every few years. Fortunately, with the current standards in ethernet wiring now available, you can readily upgrade from Cat5 wiring to Cat6 wiring and essentially future-proof your network cabling with the help of Integrated System Installers. There are a number of benefits to upgrading your wiring, and we'll touch on a few of them here. When you are looking to upgrade your network, our team is ready to help explain all of the details involved, so contact us today.
Benefits of Upgrading Network Cabling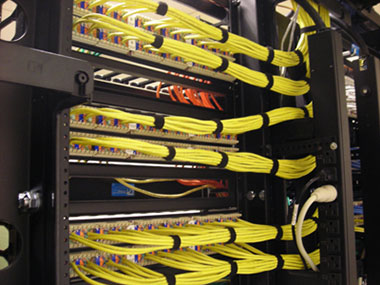 So why would you upgrade your network cabling from Cat5 to Cat6? There are several reasons to take the plunge and go with Cat6 network cabling for your home or business/building, and perhaps the biggest reason is that Cat6 cabling can carry more data faster compared to Cat5 and even Cat5e cables. Cat6 cables are capable of speeds of 10Gbps, or 10 Gigabits per second. Cat5e cables are only capable of 1000Mbps, or 1000 Megabits per second, sometimes also listed as 1 Gigabit per second for comparisons to Cat6 cables.
But speed isn't the only benefit of upgrading from Cat5 cables to Cat6 cables. There is a phenomenon known as crosstalk that can happen with wires that carry signals. To help guard against this crosstalk the wires are twisted, but this twisting can only provide so much protection against crosstalk. While both Cat5 and Cat6 have 4 pairs of twisted wires, the difference between them is that there is additional shielding between all of these pairs of wires in Cat6 cabling. This additional shielding helps to further cut down on crosstalk and allows for faster speeds compared to older cabling standards.
Call in the Experts for Your Cabling Upgrades
While there are similarities between the two cabling options, there are also important differences that need to be understood as well. That's why it is important that you have an experienced team such as the one at Integrated System Installers who have been helping businesses with various installations and tech issues for over 25 years. Our team can come into your location in Arvada, Boulder, Cheyenne, Denver, Englewood, Fort Collins, and Littleton, CO, and assess your current setup, then from there, they will recommend an approach to upgrade your Cat5 cabling to Cat56 without causing undue interruptions in your business. Give us a call today to learn more and schedule a time for us to come out to inspect your current network.